Naples restaurants: Hogfish Harry's has me hooked — JLB review
Will this new Naples seafood spot hook you? It did our critic.

Andrew Atkins
Naples Daily News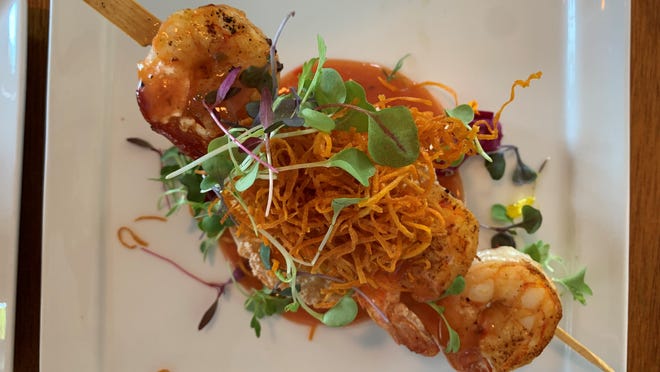 Chef Everett Fromm leads the culinary venture from Jerry Alajajian.
With a selection of sea and land fare, the menu appeals to a wide crowd.
Critic favorites included the crispy fried hogfish sandwich and the flourless chocolate torte.
From the parking lot of Naples' Park Shore Resort, I dodge the Muscovy ducks staring me down, guardians of the wooden bridge that will carry me to a world I haven't yet begun to fathom. 
On the other side, Hogfish Harry's welcomes me, doors open wide like an old friend going in for a hug. The day's breeze sweeps through the restaurant, tickling my ankles at the entrance like a wave off the nearby Gulf. The host greets me and ferries me to my table. 
Hogfish Harry's opened in October 2020 thanks to owners Jerry Alajajian and Dayle Westover, with a menu by Chef Everett Fromm, formerly of 7th Avenue Social. In 2019, before this resort space on the west side of U.S. 41 south of Pine Ridge Road was Hogfish Harry's, Alajajian ran it as Island Gypsy Poolside Cafe. Prior to that, the spot housed Pate's Island Club, Magoo's Island Grille and, for 30 years, the historic Island Club/Island Pub, which closed in 2012. 
More JLB:Fresh Start Cafe lives up to name in more ways than one
More food:Naples woman releases cookbook at 83
Settled comfortably inside this latest poolside venture, I picked my drink (a sweet, refreshing basil-strawberry lemonade) and my appetizer (chips with mango pico de gallo and guacamole) and perused the hogfish facts swimming below the desserts on the menu. 
Did you know, for instance, that hogfish live to be up to 11 years old? And did you know a male hogfish mates with and protects a group of females? And did you know — actually, the server came back and replaced my menu with the chips and dips I ordered before I could finish my hogfish education. 
Oh well. 
It was hard to be sad about hogfish facts when I was busy shoveling pico and guac into my mouth. Both were delicious but neither held a flicker to Harry's other offerings. 
The menu offers a selection of hogfish formats, including a grilled hogfish entree, and you can add the porcine-shaped denizen of the deep to salads, too. This isn't to say hogfish is all Harry's does. It also offers Key West pink shrimp, roasted grouper, Maine lobster salad and a cheeseburger made with smoked bacon and shallot jam.  
But I can't go to a place called Hogfish Harry's without ordering the hogfish. 
Fort Myers seafood:It's not you, Silver King Ocean Brasserie, it's me (and my anxiety) — JLB
I was nothing short of delighted by the crisply fried hogfish sandwich; perhaps the perfect medium for showcasing this thoroughly Floridian fish in all its flaky, tender and sweetly mild glory. The breading was exactly that: crisp in contrast to the juicy hogfish at the heart of it. A pickle was harpooned atop the brioche bun, and the plate came with mango-jalapeno remoulade, lettuce, tomato, onion and fries. 
Hogfish Harry's? No. 
Hogfish heaven. 
I did not, however, enjoy the coleslaw. See, I've been spoiled my whole life with a mom who can cook. (Hi, Mom!) Be it cheesecake, or steak, or stuffed shells — or slaw. 
I would take a big, crunchy bite before considered anything else she'd served, practically drooling over my paper plate as I did. 
So maybe I was expecting Mom's coleslaw when I took a bite of Hogfish Harry's. Or maybe I really don't like Harry's coleslaw after all. Mostly I'm just grateful it came in small enough portions that my server didn't question the still-full metal cup.
It is the tiniest gripe in a sea of excellent food. But something about the room-temp slaw put me off when it came with the hogfish and, on my second visit, when it came once again with baby back ribs. 
But those ribs? Oh baby. 
Those ribs, a generous heap of them, were slathered in a smoky barbecue sauce. Tender meat held to the bone until I ripped it away with my teeth. I felt a dim sense of regret blooming at the fact I'd chosen to wear a white shirt that day. I asked my server for extra napkins and carried on. 
Hogfish Harry's is a catch. That is no less true for the hogfish sandwich as it is for the chocolate torte. 
This delightful little treat came complete with a mint sprig and a scoop of butter-pecan ice cream with an espresso creme Anglaise. Chocolate erupted from the torte at the lightest press of my spoon, oozing decadence. 
By the end of my meal, I was sated and a few fathoms closer to understanding what this place is all about. I pushed in my chair, wandered back across the bridge, and found myself in my car as if waking from a long, restful slumber. 
Back to the real world. And, hopefully one day soon, back to Hogfish Harry's. Until then, see you in my dreams.
Jean Le Boeuf is the brand under which our restaurant critics have written for more than 40 years. This article came from staff writer Andrew Atkins. Follow our critics at facebook.com/jeanleboeufswfl or @JeanLeBoeuf on Twitter and Instagram; email jleboeuf@news-press.com. Connect with this reporter: andrew.atkins@naplesnews.com. 
To support work like Andrew's, please consider subscribing: naplesnews.com/specialoffer
Hogfish Harry's 
600 Neapolitan Way, Naples
Price: $$$-$$$$
Web: hogfishharrys.com
Hours: 11 a.m.-9 p.m. daily
Etc.: Indoor and outdoor seating, staff wears masks 
Sample Menu
Appetizers 
Guacamole dip, $9
Fried green tomatoes, $14
Key West pink shrimp, $16
Entrees
Cheeseburger, $16
Crispy fried hogfish, $18
Baby back ribs, $24
What the symbols mean
$ - Average entree is under $10
$$ - $10-$15
$$$ - $15-$20
$$$$ - $20-$25
$$$$$ - $25 and up