In the Know: Looking at DSW as one opens, another closes. Also, Oakes, Forever 21 updates and a hotel returns.
Pamela Whitfield asked on Facebook: 
OMG. Just realized the DSW store at Wiggins Pass is closed! What happened? Too close to the DSW at Coconut Point?
Sounds like their boots — and shoes — really were made for walking.
Shopper Emily Heaney observed that not enough people were coming to that North Naples shopping center known as Gateway Shoppes at North Bay, 13585 Tamiami Trail N.
We haven't heard back from DSW Shoes, but both offered by Whitfield and Heaney are good theories.
As previously reported by In the Know, Lucky's Market was supposed to have already debuted in Gateway Shoppes. The owners, however, decided to hold off until next year so there hasn't been the increase in shopping center traffic that was anticipated. Couldn't have helped DSW's situation.
More:In the Know: How will Florida's declining consumer confidence affect growth & development in SWFL?
And:In the Know: A look inside Inn on Fifth's $5M renovation; new developments and the hazards of Davis Blvd.
On the DSW location hypothesis: The Coconut Point spot at 8050 Mediterranean Drive, Estero is about eight miles away. And in addition, this matches the same distance to the brand new DSW at Carillon Place at Airport-Pulling and Pine Ridge roads that opened on Sept. 19. It's at Carillon that we reported the Sept. 13 opening of Five Below, just a few doors down from the DSW. 
Another possible factor: Designer Brands, owner of DSW, showed a drop in sales in its recently released second-quarter earnings as compared to a year ago. It also finished 2018 with a reported net loss of more than $20 million. The company lost nearly $46 million over the Christmas holiday period, according to CNN, and it closed at least 38 stories last year.
Onward, Oakes
Chandler Green asked Tuesday via email:
What is the construction going on across from the new Oakes market on Livingston Road?  It is on the west side of the street located in the FPL easement. Is this the employee parking for Oaks? How will they cross Livingston? Thought it might make for a good "In the Know" article.
You're right, Chandler. It's a good topic we're hoping to hit in more detail in a later column with interviews, but since you asked, let's get down to your excellent question.
As previously reported on naplesnews.com, the Oakes Farms' Seed to Table store off Immokalee Road in North Naples is set to open in early November. And although there is a track record of postponements going back four years, the latest plans haven't deviated based on information from a recent homeowners board presentation.
Employees will park across Livingston in the new lot that's going in and be shuttled back and forth. At one point there was talk of a bridge over Livingston, but with factors, such as a $2.5 million price tag for Oakes, that's not in the plans for now.
Oakes Farms Inc. purchased the former Albertsons supermarket and its 7-acre lot at 4835 Immokalee Road for $5 million in 2014. The initial plans called for opening in 2015, and it was delayed to 2016. Then it was 2017, and then 2018.
We're including a couple of links for background.
More:Oakes Farms Market will open in November
And, previously:Oakes Farms' Seed to Table store in North Naples faces delays
This time, jobs are posted, with plans for up to 500 employees. There are 78 positions listed on the Oakes site, and multiple workers will be hired for many of those. They need several people just for the guacamole station. A couple of my favorites: "Wine/Beer Enthusiasts" and "Mozzarella Stretching" personnel.
None of these are going to allow you to buy an oceanfront mansion any time soon, but it appears you might pick up a new skill.
Evolving East Trail
A reader asked: What's going on just off Tamiami Trail East on Palm Drive in Naples?
Wyands Building Corporation reports that a $15 million construction project began Sept. 16 on eight acres at 101 Palm Drive of 20 single-family homes next to the golf course for The Glades Golf & Country Club.
Prices of the Seahorse Cottages at Cambria homes will be starting at $554,800 pre-construction, and the first ones should be ready within six months, said Yvonne Hubschman, vice-president for Wyands, which has a web site for the development at seahorsecottagesatcambria.com.
Do the hustle
The Inn on Fifth & Club Level Suites in downtown Naples completed its $5 million renovation Tuesday, doing a lot of it during the buzzy four-week gap when owner Phil McCabe closed his main building at 699 5th Avenue S. It reopened Tuesday.
The extensive "refinements" as the proud McCabe calls them include this sampling: 
♦ a major upgrade of the rooftop pool courtyard with various flooring and a new gazebo, bar and seating.
More:In the Know: A look inside Inn on Fifth's $5M renovation and the hazards of Davis Blvd.
And previously:In the Know: Iconic Inn on Fifth closes doors for 'major' renovations
♦ floor-to-ceiling porcelain tile flooring and high-impact, sound-resistant tinted glass sliding doors in the rooms; and
♦ bathroom vanity tops of all-natural Brazilian mercury quartzite in the bathroom
Naples is Forever 21
The Coastland Center can always use good news.
Its Forever 21 store is not on the list released late Tuesday of 178 locations that are closing in the United States by the end of the year.
That's the only one that currently operates in Southwest Florida. Seven of them are being eliminated statewide.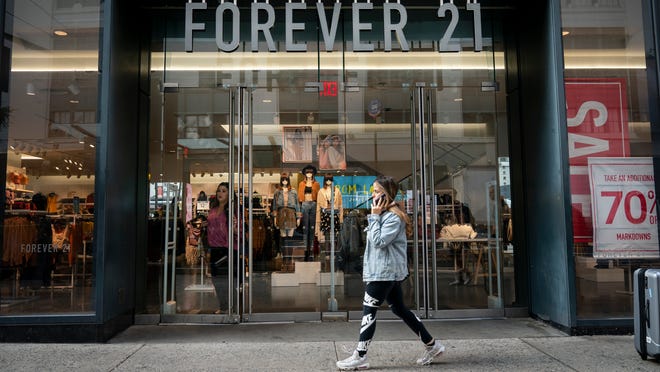 The fashion retailer filed for Chapter 11 bankruptcy protection this week, hobbled by expensive leases and declining mall traffic. It's shutting down 350 locations worldwide. For mall owners, Forever 21 has been a top tenant, according to CNBC.
Columnist Phil Fernandez writes In the Know for the Naples Daily News. Tips or questions? Email pfernandez@gannett.com.