In the Know: Answering your questions about Margaritaville's construction start date and CinéBistro

Phil Fernandez
Naples Daily News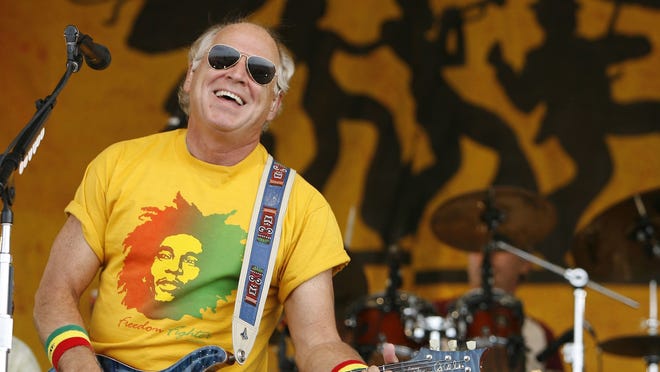 Cape Coral resident Maria Perez had a question Wednesday about Margaritaville that went well beyond the ever so-popular Jimmy Buffett song.
"When will all buildings be demolished and the construction started?"
Plenty of speculative plans have been tossed out over the past nearly seven years, but for the first time, there's a firm start date for the rising of Southwest Florida's highly anticipated Margaritaville resort.
"There's going to be a ceremonial groundbreaking on Friday, Aug. 13, which is exactly 17 years to the day since Hurricane Charley," Fort Myers Beach Mayor Ray Murphy told me this past week. "Then demolition will begin in earnest on the following Monday the 16th."
More:In the Know: A Fort Myers Beach favorite is closing after almost a half-century. The island is losing a post office
And:In the Know: Will your address get higher flood insurance rates? Plus Margaritaville update
As the mayor and I discussed, that northern stretch of Estero Boulevard, perhaps a bit more raw than the shinier strips along Sanibel, Naples and Marco Island beaches, can't all be blamed on Charley. That was the Fort Myers Beach I remember growing up and enjoyed despite its few warts.
"They attribute a lot of that damage down there to Hurricane Charley although I think it was rundown before," Murphy said. "Everybody wants to hang it on Hurricane Charley."
Now the future hangs on the Buffett-themed 254-room lah de dah that comes with restaurants, shopping areas and beach access, dramatically reshaping what's traditionally been known as downtown.
TPI development honcho Tom Torgerson has said his company has invested at least $50 million up to this point.
"Their general contractor is DeAngelis Diamond, and they started down in Collier County in Naples," Murphy said of the company with its name on a growing number of evolving enterprises in Florida and beyond. "They (DeAngelis) have really expanded. They're that big."
The first six weeks will focus on the removal of asbestos, and that's a big time job in itself, according to TPI. Prior to that start, the goal is to wrap up the infrastructure improvements, such as sewer, electric and storm water lines.
In July, the Fort Myers Beach Fire Department and other agencies also used the buildings slated for demolition for simulations to practice staff skills.
Subscriber exclusive:In the Know: Is the local home-buying surge over? And where's the best vacation spot for working remotely?
Based on my exchanges with Torgerson about a 25-month construction process, the start date would probably put completion close to autumn 2023, But the way it's been raining and the drawn out history of this complex, who knows?
The mayor had a few quips, with the previous delays due to suits and other challenges in mind.
"I'm hoping that after all that these guys have gone through to get this project going, that if they finally ever get it completed, built, I'm hoping that if Jimmy Buffett, if he's still alive, will come and say a few words at the opening, and then I can renew my acquaintanceship with him," Murphy said.
Couple of Buffett stories; Cronkite, too
Oddly enough, the initial time the mayor encountered the Parrothead king, he had to go through famed newsman Walter Cronkite first.
As humorously chronicled by the mayor and heavily condensed here, the Cronkite episode is an adventure in itself, back to 1999 when Murphy served on the Uncommon Friends Foundation board.
The foundation was inspired by the local Jim Newton book about his unique relationship with some of the biggest names in history including Henry Ford, Thomas Edison, Harvey Firestone, Charles Lindbergh and Dr. Alexis Carrel. A decision was made to create a documentary and contact Cronkite to serve as narrator.
"The word got back to us that Cronkite himself said, 'If those kooks ever call again, don't take another call from them. They're absolutely nuts,'" the storytelling Murphy shared, as I chuckled at the Cronkite impersonation through his Jersey accent. "And we said, 'Really? Why did he feel that way? Because he said, 'There's no way one guy knew those five people.'
"The message finally got through that this was, in fact, true, and that Jim Newton was personal friends with these people. Well, then he called back, and he said, 'There's no way I'm not going to do it.'"
At a Barbara B. Mann Performing Arts Hall reception tied to the premiere showing, he was excitedly introduced to Cronkite, who had a surprise for him:
He says, 'Well, mayor, as long as you're here, say hello to a friend of mine. So he taps this guy on the shoulder, and turns around and says 'Say hi to Jimmy Buffett.' So Jimmy Buffett was there with Walter Cronkite. So they were buddies. They were great buddies. What they had in common, they were both sailors. They both sailed boats. So in the winter time, Cronkite would come down and sail with Jimmy Buffett in the Keys."
And as Buffett talked about as part of his performance at the 2009 memorial service for Cronkite, he'd return the favor in the summers at Martha's Vineyard.
Certainly, they were uncommon friends.
As Floridians, many of us probably have Buffett stories.
We're not celebrity gawkers by any means, but when my wife and I briefly met him, he wasn't in a talking mood. He was at the front desk of Coral Gables' Hotel St. Michel bed and breakfast that he frequented in its more formidable days, trying to see if they might have anything for the stomach troubles he was experiencing.
Pale and trying to muster a smile, he gave us a weak, pained wave before heading back upstairs.
We ended up not sleeping but not from the excitement of a rare fancy weekend getaway or our celeb sighting. It turned out Buffett was in the top floor parlor above us, and we heard him all night.
Art films at CMX CinéBistro
I was honored to hear from Collier Tourist Development Council member and Old Naples concierge extraordinaire Susan Becker the other day.
I guess she and I could switch jobs. She's definitely in the know, and I'm always at your service except you ask way too many great questions and unfortunately, I can't get to all of them, and that sure pains me. So sorry about that. I'll do my best but I guess I'm not cut out for concierge. Being a columnist will have to do for today. Let's get back to Ms. Becker, shall we?
So whatcha got?
COVID comeback:In the Know: CMX CinéBistro project returns to life, The Collective update and a touch of Fifth Avenue South at the Mercato
Previously:In the Know: Opening set for $13 million CMX CinéBistro, just in time for big movie blockbusters; and what's it cost to go?
"You've written a hopeful article about the cinema at Coastland Center. If you have any influence with CinéBistro, however, please could you apprise them of the viewing population of Naples proper? We are an arts loving community," she told me, after I included a list of planned blockbusters. "Yes, the Met Opera qualifies, but otherwise the CinéBistro offerings listed today have little to offer the discriminating Naples moviegoer.
"For years this community has cried out for a theater that offers art films. Why not CinéBistro?"
Done.
Here's what Matt Russell, vice president of CMX Cinemas USA, has to say about the subject regarding his CMX CinéBistro due to open in October, coinciding with the start of one of the most highly anticipated three months in Hollywood motion picture history.
"We listen to our audience," Russell said. "We want to make sure we're getting in the films that they want."
And there are plenty of examples that I found in my research.
In New York City, where it has a half-dozen screens as planned here, the company regularly aims to dedicate one of them to independent film. In other spots, it has played a central role in events showcasing those types of movies, such as this year's Sarasota Film Festival.
Look for plenty of viewing options, Russell said.
"Sometimes we'll show one-offs. Sometimes we'll show classics. Sometimes we'll show live events. UFC, boxing. We'll do a lot of entertainment, along with movies. You're going to have different movies. Basically, if you can see it on a screen somewhere, we're going to look at showing it," Russell said..
With the wide variety of programming, an important piece is having the right loud and soft sounds and the best walls between the different rooms.
"We actually double-wall everything, and we put an air gap in-between. That sound actually dies in-between. Because if you can imagine having four 18-inch sub-woofers when you have all these theaters. How do you stop that sound penetration?" Russell said. "Because if not, you've got a really quiet dramatic love story, and then you've got explosions next door, those things don't mix."
And Russell's not into crowds.
"We're right at 40,000 square feet, give or take. Six auditoriums, 80 to 100 seats per auditorium," he said. "Our aisles are twice as wide. Seats twice as big. Our theaters, they're built for 200 people but we only seat 90."
This is a big deal to him.
"We have to do that to maintain the atmosphere you want. But that's also why we have to have that incredible executive chef who created and housed and executed an every day menu because I don't fit twice as many people in the auditorium," he said. "They come from some of the best brand steakhouses. You name them. That's who we recruit. That's who we have. That's who we train."
'Huge education piece'
And what prompts Russell to do this?
"Because that's the prices we charge. That's all the experience we deliver. You try to convince someone to buy an $80, $100, $120 bottle of wine at a movie theater, you've got to really brand. It's not just about the wine. It's about the entire atmosphere. The delivery and the ambiance to which it is consumed. That's a whole challenge for us to educate."
Russell concedes it's not easy initially to understand the concept.
"We know it's a leap for people," he said. "Because when you tell somebody, 'Hey, I'm going to go spend, you know, 200 bucks at a movie theater,' people are like, 'What are you talking about?' But until you have our experience, you don't really know."
And to try to reach the level of "adult sophisticated yet approachable experience" Becker and others are seeking, Russell said he has a pretty firm rule that he calls "a huge education piece" not everyone is going to like.
"After 8 p.m., it's going to be 21 and over," he said. "It's not a bunch of teenagers running around. We're not that kind of theater."
Not that Russell is cutting out kids completely:
"There's neighborhood events like Trunk or Treat that we do. We haven't finalized our plans for Coastland, but that's certainly one program. We also do things where at the end of every show, we give out our thank you mints for coming in. Little chocolate-covered mints, they're delicious and addictive. And sometimes we will do those and candy on Halloween."
He is a stickler about something else:
"The key thing is just making sure you're there a half-hour before the show starts. So if you got a 7 o'clock showtime, you have to get there by 6:30 because that's when we're going to seat the auditorium. That's when service begins. That's when all the servers are going over to you, take care of you, bring all the stuff out to you. Because when that movie starts, service is over."
It's not some kind of buffet you're having for what you're spending, which on average, all included, is about $50 per person.
"The price of a ticket, that's the entry fee if you will. But everything else is à la carte. Everything else is as you wish the experience to be. We don't have any minimums. We don't have a two-drink type of deal," Russell said. "We've never had to put in any minimums. We never had to do anything like that because 98% of people are coming to us for our specific experience."
Russell knows Southwest Florida residents have plenty to choose from when it comes to fine dining and movies but not necessarily how he does it:
"They can watch the movie anywhere. Right? Movies aren't proprietary. Everybody has it. It's the experience no one else has. That's where we have the most success."
Based at the Naples Daily News, Columnist Phil Fernandez (pfernandez@gannett.com) writes In the Know as part of the USA TODAY NETWORK. Support Democracy and subscribe to a newspaper.