Driven to help people, Marco Island Academy senior strives to become a trauma surgeon

Devan Patel
Naples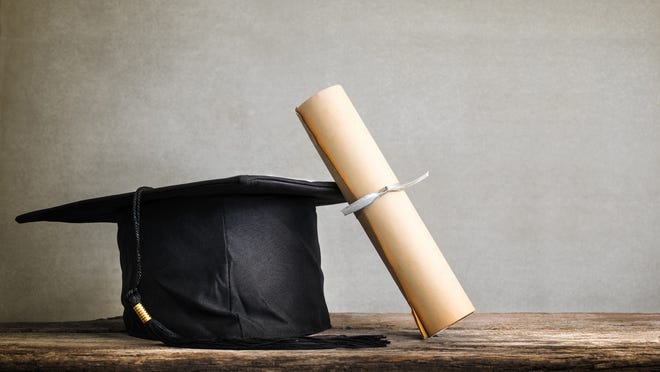 Editor's note: This is one in a series of Naples Daily News stories on Graduates of Distinction, who are selected by staff at the high school. 
Marshall Daffner couldn't stop poking fun at himself as he explained how he managed his busy academic and athletic pursuits.
Pick a sport — cross country, track and field, football, soccer, golf and baseball — and he's played it, including during his senior year when he was dual-enrolled at Florida SouthWestern State College.
"I just think the biggest thing is how much you want it," Daffner said. "I sound like a dad right now."
But Daffner's drive, maturity and thoughtfulness, despite being 18 years old, are part of the reason he was named Marco Island Academy's Graduate of Distinction.
"He is the real deal and can teach us all to keep our focus," Principal Melissa Scott said when she introduced him in March as a Student of the Month. "He is the perfect blend of serious, well-spoken, yet soft-spoken, and he makes me laugh every time I'm around him. In the future, I can picture him in his office full of medical books adorned in his lab coat reassuring his patients with patience, class, and kindness (and) with just the right balance of humor."
Following graduation, Daffner is taking his top-five class standing and 5.17 GPA to the University of South Florida where he plans to study biomedical sciences before attending medical school.
Although he was a six-sport athlete, Daffner said he was more drawn to the triaging of injuries and his desire to help people, a trait that was inspired by his father.
Congrats!:Here are all of the 2019 Graduates of Distinction
From 2018:Marco Island Academy graduate Caitlin Carlson can't help but put others first
His dad couldn't attend college and had to go to work after he finished high school. but he made himself a jack-of-all-trades, Daffner said.
"He really inspired me to help in any kind of situation," Daffner said.
Ultimately, his goal is to become a trauma surgeon.
"If you think about it, you can't live without the human body," Daffner said. "Someone is always going to find a way to get hurt. I just want to be able to react and help as much as I can."
Even in picking the University of South Florida to attend college, Daffner is thoughtful in his explanation.
He is already familiar with the campus with his brother having attended the school.
There are a lot of facilities on campus. And then there is the potential hit to his family's wallet.
In case you missed it:Mason Classical Academy senior aspires to be cyber trailblazer
And: Palmetto Ridge senior is a leader — on and off the field
Also:Community School of Naples senior wants to help women in developing countries
"In-state tuition is a lot friendlier and going to medical school is going to be really expensive," Daffner said.
The $12,000 Florida Bright Futures scholarship that came with acceptance didn't hurt either.
For all the accolades and big aspirations, Daffner has remained the same kid: inspired to work hard by his family and comfortable in his own skin, said Scott, the principal.
"He is always about the humble brag and never shies away from laughing at himself," Scott said. "He lets loose on the dance floor, rocks pink like it's no one's business, and loves his parents and brother with an open honesty and a wide smile."
ABOUT MARSHALL
What is your favorite food and favorite place to get it?
The 5-meat pizza from Joey D's, no sauce.
What celebrity do you most admire?
Elon Musk, being successful enough to fund your own space program and make electric cars is cool.
If you could bequeath just one item to the incoming senior class, what would it be?
A gallon jug of water, drink as much as you can. It works wonders.
If you could bring a music artist to your school, who would it be?
Billy Joel
Describe your senior year of high school in one word.
Busy
Find more online
This is one in a series of stories on Graduates of Distinction, who are selected by staff at the high school. Watch GIFs of each grad and read more grad profiles at naplesnews.com