Allow fishing for goliath grouper again, anglers urge FWC in East Naples survey
Eric Staats
Marco Eagle
A proposal to reopen goliath grouper season for the first time in more than 20 years received overwhelming support in a survey fishermen took Wednesday.
Almost 30 people, mostly recreational anglers, took the survey at a Florida Fish and Wildlife Conservation Commission public input hearing in a library meeting room in East Naples.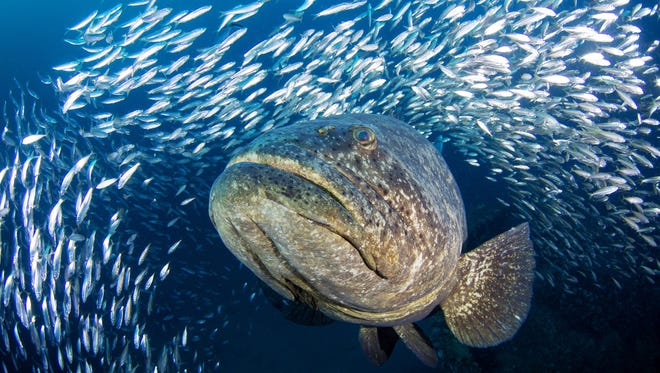 Overfishing prompted state and federal fisheries managers to shut down goliath grouper fishing in 1990, but a 2016 stock assessment indicated goliath grouper have made a comeback in South Florida.
The survey, using handheld clickers to answer questions as results popped up on a screen, showed that 93 percent of survey takers favored a limited open season for goliath grouper.
But more than half said they favored a harvest only as long as fishermen had to report their catches or only if it would not lead to overfishing.
Naples is one of 16 spots around the state where the FWC has taken input on a subject that often puts fishermen who want a limited harvest against divers who value seeing the fish in the wild.
Many fishermen consider goliath grouper to be a nuisance because they are infamous for taking struggling fish off their lines and overtaking offshore reefs.
"They're a menace down here; they're just thick," said fisherman and diver Jeff Holzinger, of Bonita Springs.
Allowing fishermen to take goliath grouper again has raised concerns about setting back goliath groupers' rebound in Florida.
Stock assessments for goliath grouper are hampered by a lack of catch data and gaps in scientific understanding about how long they live and how they reproduce.
The limited harvest would be allowed in state waters, but not in federal waters farther offshore. The exact rules for any harvest have yet to be determined.
Under a starting recommendation, the FWC would hold a random drawing to choose who would be allowed to catch and keep goliath groupers.
The FWC would issue 100 goliath grouper tags each year statewide for four years, and each tag would allow the holder to catch one fish per year. Each tag could cost up to $300.
Goliath grouper would have to be 47 inches to 67 inches to keep; spawning sites would not be part of open areas.
Jim Kalvin, of Naples, said he worries that 100 tags statewide are not enough to keep goliath grouper populations in check.
"That's a drop in the bucket," Kalvin said.