Fishingcast: Conditions for Southwest Florida, May 4-10
Capt. Bill Walsh
dawnpatrolmarco@cs.com
Red tide report by region. Wind dominant east. Front early week from west, churns water. Weak tides till late week. Water temp 80-83.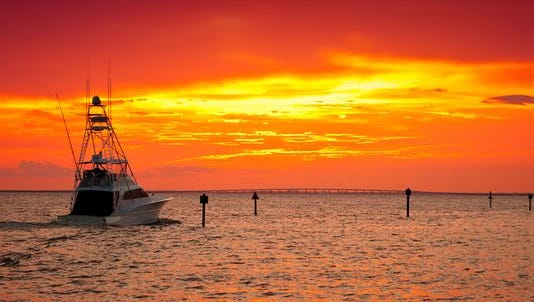 MARCO ISLAND
Backwater: Red tide, low. Clean water early week pompano Hurricane, Capri Passes. Rapidly improving snapper action Rookery to Keewaydin. Trout west edges Calhoun Channel on incoming. Tarpon action spotty Marco River N edge.
Nearshore: Tarpon inconsistent north edge Capri Channel. Mackerel et al holding circa Capri barges, incoming. VG snapper action southeast corner Five Mile Reef.
Offshore: Good conditions thru w/e. Hot snapper action mangrove; yellowtail mid-range reefs. Pelagics, kings showing deeper wrecks with bait.
NAPLES
Backwater: Red tide, low. Weak tides slow snook. Improving action redfish Dollar Bay creeks, Henderson Creek at morning high water. Pompano action Hurricane early week a.m. Trout, north edges Canon Island.
Nearshore: Spotty tarpon action Keewaydin flats early a.m. incoming. Lane, mangrove snapper action east edges Gordon Five, incoming.
Offshore: Migrating kings holding on bait rich deep wrecks 15-plus miles. Yellowtail snapper schools mid-range reefs, wrecks on freelined chum bits, incoming
BONITA
Backwater: Red tide warning, high. FWC charts show unaffected water just south Wiggins and north of Lovers Key. Snapper hot action mangrove edges. Snook action first light incoming with pilchards. Clean water till Tuesday.
Nearshore: Deeper water 30-35,' structure spots for mangrove, lane. Some school action mackerel, blues circa bait action same depth.
Offshore: Flat water till Tuesday. Chance better water deep to draw action. Try deep wrecks 20-25 mi holding bait; top water action migrating kings on live runner under chum.
More:Fishingcast: Conditions for Southwest Florida, April 27-May 3
More:On The Hook: Incentive fishing
Questions: dawnpatrolmarco@cs.com.