Fishingcast: Conditions for Southwest Florida, May 11-17
Capt. Bill Walsh
dawnpatrolmarco@cs.com
Red tide report by region. Season changes, summer rain; storms. Water temp drops with fresh water intrusion. All winds moderate and east. Tides moderate both ways.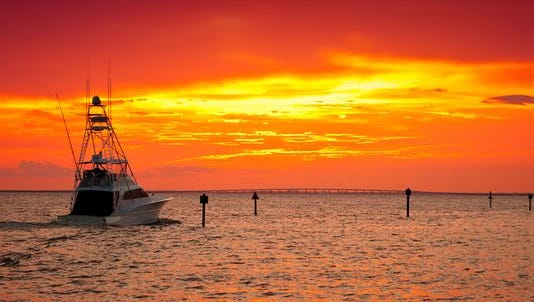 More:On The Hook: Comparative sport fishing
MARCO ISLAND 
Backwater: Red tide, low on beaches; moderate Keewaydin. Snapper bite, size improving. If clean water pompano all Passes. Snook action, incoming beaches Kice to Sand Dollar. 
Nearshore: Minimal tarpon action east edges Capri Channel, Keewaydin flats. Pompano north of Tigertail first light incoming. Snapper Walton, Five Mile either tide, weighted jigs. 
Offshore: Mackerel reefs SW 8-12 mile, jigs under chum. Kingfish, cobia on wrecks 12-20 miles; live bait under chum. Red grouper inch closer, 65' with live pinfish on drift. 
NAPLES 
Backwater: Red tide, low; Gordon, moderate north; Rookery. Snook, Gordon incoming, first light; Bay east side docks, evening. Pompano, Hurricane Pass incoming; clean water. Snapper, Dollar Bay edges. 
Nearshore: Smaller tarpon, first light incoming; Gordon circa jetty. Mackerel et al, east edges; Gordon Five. Snook on beaches, a.m.; Doctors to Wiggins. 
Offshore: Amberjack, deep wrecks, until May 31; mid wrecks, reefs, yellowtail snapper, freelined bait under chum. Kingfish, mid-range wrecks; live runner. 
BONITA 
Backwater: Red tide, high Bonita; Lovers Key, moderate Estero. Snook, beaches north Carlos. Mackerel, some trout Captiva; circa #R54. Redfish, east wall creeks; a.m. high water. 
Nearshore: Mackerel et al, 20-30' reefs, tipped jigs with chum. Little tunny in mix, lane snapper MAY reef edges. 
Offshore: Red grouper move east, 60' going west, live pinfish, hard bottom on drift. Yellowtail snapper, mid-range wrecks; freelined chum bits in slick. Amberjack deep wrecks until May 31; live bait on vertical drop.
Questions: dawnpatrolmarco@cs.com.