Fishingcast: Conditions for SWFLA, Oct. 26-Nov. 1
Bill Walsh
Columnist
We can finally move on from hurricanes, the red tide and the green algae as the first vestiges of season change comes evident this week. Multiple forecasts indicate that come late weekend we will experience a significant drop in air temperature post weekend that will have the mornings ringing in with low 60-degree readings. That will have you looking for the jacket you stored months ago and will have species of fish readying for a run inshore as the water temperatures descend.
More:On The Hook: Fishing with heroes
Aas a beneficial by-product, thus restrain further seawater fouling by tainted conditions. The water temperatures will drop, slowly at first and then rather significantly over the coming weeks. Look for slight move downward this week to high 70's with a definite downward trend as the weeks move on.  Elsewhere on the conditions front, look for some westerly gusty winds through the weekend then chilling down and winds easing for the balance of the week. Tides will be strong as we pass through a full moon with stronger morning incoming water.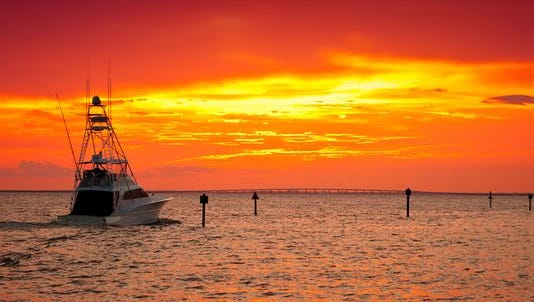 BACKWATER
Marco Island: General fishing experience here continues strong. The theory that those severely tainted water conditions north of Marco moved both bait and predators south still ring true. Infrequent species (flounder, porgies,) are still showing here. And now the prospect of water cooling will excite the urge for the winter species (sheepshead, black drum, whiting and silver trout) to take to action. Action will be patchy at first but should show this week, especially the sheepshead action in along docks and deep structure with shrimp or cut crabs on a soft lift technique. Whiting should show in deep cuts along the ICW.
Naples: The good snook action (i.e. Gordon River, Naples Bay) may take a hit late week as water temps dip. Contrastingly, the conditions may well uptick redfish action that has been fair to good along the ICW circa #R58 and N. Rookery Bay working shrimp under popper to mangrove edges at high water. Would also expect better take on pompano in Hurricane Pass and, surprisingly, Rookery Bay on the stronger morning incoming with weighted rigs to bottom in fast current. Seatrout will be activated in cooler water – best would be edges Henderson Creek and Along the east edges of the ICW's Calhoun Channel.
Bonita Springs: Expect the post fouled water fishing bonanza to continue here. The generally shallower water in Estero and San Carlos Bays should hold warmer temps and the ongoing snook bonanza should continue at least through the next couple of weeks. It's live pilchards, sardines on current points, incoming tide post pilchard shower. Good redfish action Little Pine, Matlacha on last of incoming working overhangs with mega shrimp under popper. Seatrout circa Mound Key, Estero over sea grass patches, incoming on drift 4-6,' shrimp under popper.     
NEARSHORE, OFFSHORE  
Marco Island: Inshore beaches from Cape Romano to Caxambas on last hours morning incoming for large post spawn snook with pilchards worked post shower to current points. Also, inside Capri Pass wrecks, barges for pelagics (mackerel, bluefish, jacks) up top with tipped jigs on wire under chum. Deep have some reports of first slight migrating east on red grouper showing 50-55' hard bottom working live pinfish tight to structure on major gear. Deep wrecks (50-70') for first south reverse migration kings, some cobia and permit; live runner on wire for kings; sight cast threadfin for cobia; freeline crab for permit.
Naples: Several reports of less evidence of fouled water "floaters" deep. Cooler water should extend that trend. Deep wrecks seeing increase in pelagics as vanguard of migrates begins its trek south. Look for bait evidence before setting up on wreck; best target kings with live runner tethered on wire under float in good chum slick. Inshore some early sheepshead action west edges Gordon Five working shrimp on a lindy rig with vertical soft lift technique. Tight to beaches Gordon to Pier for snook on early a.m. incoming tide with threads, pilchards post chum shower.
Bonita Springs: Reports show clean water dominant now with rare patches of discolor. Cool down water temps should finally end the fouling. Inshore, Big Carlos for some mid-size tarpon mid a.m. incoming with threads, pinfish worked post bait showers. Also, inshore snook action circa Wiggins Pass on incoming from beach to 10th soaking live bait with frequent pilchard showers. Deep water red grouper shows some movement east. Try 55-60 ft hard bottom with live pinfish tight to structure on drift with morning incoming best. Some tripletail on pots; set lookout and have baited jigs at ready on double back.
Capt. Bill Walsh owns a charter fishing business and holds a U.S. Coast Guard license. Send comments to dawnpatrolmarco@cs.com.