Fishingcast: Conditions for Southwest Florida, Aug. 16-22
Bill Walsh
Columnist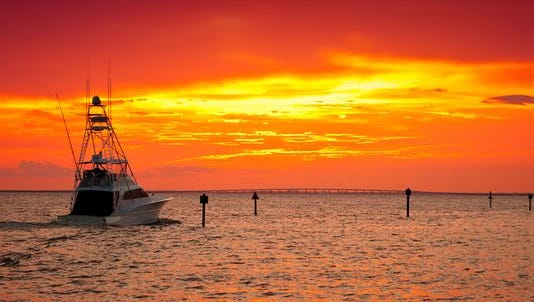 Mid-August and we've got a definitive change in the weather pattern. Forecasts for this coming week show two distinct changes.
First and most appreciated is a distinct lessening of those raucous thunderstorms starting with the new week. The companion change will not be as friendly as it features a resurgence of windy conditions out of the southeast and encompass a steady diet of gusty morning and afternoon winds; almost all emanating out of the southeast, with that change we will see some curtailment of favorable sea conditions but a much appreciated drop in air and water temperatures.
More:On the Hook: Finding the perfect fishing sector
Adversely, we may see some additional cloudiness in water clarity. But even with those changes, we see zero tropical weather forming in the Atlantic for a least the next week. So far, so good for those of us who sustained Irma during early September 2017. Suspect we also see a drop in sea water temperatures from the "hot" 85-87 range to (83-84) more seasonal range by late week.
The offset in conditions will stir up the Gulf surface waters both inshore and deep which means so negative effect on clarity; so be ready to switch baits, lures to more visible levels in the cloudy conditions. The tides this week are post a full moon early week and moderate tides both ways right through the end of the period. If the guess is right, this week defines a change in weather pattern as we near fall; for fishing it will change "seasons" and some of the fall favorites may show up and that's OK if tropical weather monsters don't also show up.                                                      
BACKWATER
Marco Island: To forecast what will happen will have to switch to early fall, late summer mode here. As mentioned in conditions may see a downturn in general temperature and some acceleration of wind as this week progresses. Key fishing issue then will be the emergence of redfish action. They will be involved in spawn and the bigger males of the species will begin to school up just offshore; great action is you latch onto one but remember then have an upper limit of 27." The females post spawn will be back on the feed as well. Otherwise mangrove action will stay hot; pompano will become more active as water temp drops. Yeah fall!
Naples: Even with the pick-up of wind velocity and slight variation in water temperature, the snook who have graced the Gordon River should stay active and on the feed. Best will be the mid-morning incoming tide pre-weekend (avoid weekend boat traffic) working pilchards on small circles post bait shower. At nightfall drift back up near those bait laden docks in Naples Bay – here live pinfish, artificial under the dock lights. Redfish action should accelerate in those feeder creeks on both sides of Dollar and back inside North Rookery along drop off edges with big shrimp worked tight to mangrove overhangs. Lots of nice size snapper will be foraging along the Keewaydin docks and going well positioned fresh shrimp. Remember reds all release north of Gordon Pass.                  
Bonita Springs: Reminder: the important Save Our Water conference is scheduled for Aug. 21 at Hyatt Coconut Point; bad conditions in 2018, 2019 were paramount in Bonita area. Still seeing moderate small tarpon action in first light hours all along the Bonita shoreline. Try water depth 10-15' with small threads on early tide drift. Tight to the mangroves seeing some nice size black drum to 20-22" ... cousins of redfish; delicious table fare and not catch restricted. Still seeing some take-home sheepshead along the main channel just north of Big Hickory on cut crabs or generous portion of live shrimp. Some pompano on the sand drop-offs same location
NEARSHORE, OFFSHORE
Marco Island: Close inshore conditions might well change this week with the prospect of some mild p.m. winds. But direction from the southeast should have but a mild effect on sea state but surf turbulence could stir up the water clarity, Would still seek action however both along the shoreline circa Sandollar Island working tipped jigs in the 7-10' depths for pompano, mackerel and small sharks. Deep action is still reported to be solid on published wrecks and bottom structure in the 10-20 mile range. Up top good chance for still active pelagics (i.e. kings and cobia) and bottom action still very strong on all snapper species including the yellowtail.
Naples: Inside, the amazingly warm summer has kept good snook action in play from the jetty at Gordon Pass north to Wiggins Pass. That should continue to work out this week especially on the mid-morning incoming with pilchards post bait showers. Might well see the beginning of redfish action with big males foraging along circa the surf line. Out deep, the good to very good action should sustain with good bottom action on snapper, triggers and smaller grouper. Don't neglect a stop at the east edges of the Gordon Five reef enroute either way. Deep on wrecks it's still "lights out" on the cobia, kings and sharks.
Bonita Springs: Continued good reports of the small tarpon showing early a.m. first light close inshore anywhere from Wiggins to just adjacent to Lovers Key. Tarpon in the 20-30 # range and great on light spinning tackle. Mid-range reefs in the 15-20 mile range said to be producing good results working deep baits into structure under chum. Snapper, both mangrove and lane, are super active on tipped jigs tipped with cut bait and you might even get surprised with a massive Goliath Grouper working a mega bait on heave gear. Anglers still working the super deep hard bottom at 70–80 feet with live bait for red grouper and report minimal results. Still an issue of size.
More:Fishingcast: Conditions for Southwest Florida, Aug. 10-15
Capt. Bill Walsh owns a charter fishing business and holds a U.S. Coast Guard license. Send comments to dawnpatrolmarco@cs.com.