Fishingcast: Conditions for Southwest Florida, Aug. 30-Sept. 5
Bill Walsh
Columnist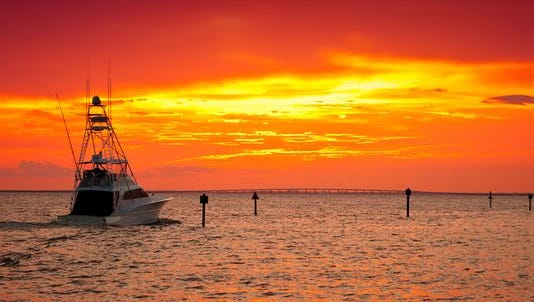 Well here we are, entering September and dealing with the very first tropical storm issue of the 2019 season. After reviewing a mass of different reports and forecasts still have no idea of what we will be facing here post this week. Really too soon to tell but we will need to "stay tuned" as the days progress. In the interim, looks like our daily diet of intermittent storms will continue.
Unprecedented flow of storm cells will continue to bring storm cells complete with rain and lightning streaming from the southwest heading northeast disrupting activities and our fishing. That pattern has been in place for most of the summer and looks like it will stay in place until whatever dislodges it as fall weather patterns arrive.
On a rather positive note that continual southwest flow has stifled the usual summer pattern of rather raucous winds from the north and west that would make our waters a seething mess and shut down fishing with riled dirty water. So, with one issue we're certainly better off. Before we proceed to discuss the factors of water temp and tides a couple of oft repeated safety cautions; respect the potential danger wrapped up in these storms: do not endanger yourself or your crew by persisting operations with vertical lightning strikes present and equip yourself with cellular based weather forecasting this time of the year. Without enough lead time you cannot outrun these storms. As to the water temperature, look to 84-85 backwater and a couple degrees less near and offshore. The tides will be coming off a new moon early week with strong incoming tides early week and easing post Labor Day and the same pattern for the afternoon ebb tide. 
BACKWATER
Marco Island: Even facing some wet and uncomfortable conditions, we still see some moderately good results over these past couple of weeks. Primary to that item is the accelerating presence of redfish activity all along the bays and associated connecting waterways on the redfish spawn, There is a definite uptick in juvenile redfish action on most backwater current points and seeing the start of serious action on sized adult reds on mangrove edges. Also sensing an increase in good size pompano on current points post the start of the incoming tide. Snapper action staying hot or 12" mangroves and black drum showing in Addison, Rookery & Johnson.
Naples: Sizable bait schools reaching from Gordon Pass well into tributaries off the ICW and Gordon Bay continues to enhance the general tone and success of activity in this sector especially for snook. Enormous bait schools continue to draw unparalleled action. Working pilchard showers really work. Redfish, too, amid the spawning cycle have bull reds standing by nearshore (think Gordon Five) and the spawners working the wealth of bait all along the ICW and into Dollar and Rookery Bay. Simple shrimp/4' fluoro leader will work most situations. Pompano show late last week at Hurricane Pass. Finally. On jigs early incoming.
Bonita Springs: FWC Report on water quality still positive Estero area. Great action east wall of Bay, cuts and creeks, on sizable redfish [1] spawners. Project excellent week working last of late morning high water tight to cuts / creeks mangrove overhangs with shrimp on 4' fluoro leader (no weight) under popper right up to full water. Good size hungry spawners. Estero circa Big Hickory Channel deep holes for new arrival black drum working cut crabs tight to current flow bottom. Mound Key bars and grass cuts for redfish / some trout working whole shrimp tight to shell bars and cuts; a.m. incoming best.
NEARSHORE, OFFSHORE 
Marco Island: Thank the twists of fate that set the conditions six months ago that drove massive bait schools amidst a water heat wave up along the southwest Florida coast. That saved the fishery through the red tide, blue green algae fiasco here. That is the item that continues to deliver our viable inshore successful fishery in 2019. Result: continued excellent results along the Marco shore and reef edges; and it should continue unless we get a "freeze". Offshore the action is sustained by bait flooding the mid-range reefs. Beneficiaries: anglers, kingfish, cobia, sharks, cuda with the bonus of adding the availability of triple tail to the list as traps get set mid-October; now, if the tropical storm season continues its absence, we'll be all set.
Naples: Ditto for the bait bonanza delivering near and offshore results in Naples et al. The reefs and wrecks are flooded with bait that draws the food as well as the targets for the predators and anglers. Mid-range reefs (Gordon Five) has been producing steadily all summer with pelagics (sharks, kings, cobia, mackerel) all spring and summer using netted bait that has delivered. Even spots well offshore has drawn untold amounts of bait and enhanced the action significantly. Conversely, the single disappointment has been poor action on red grouper which had been a top draw here for over 15 years. Consensus among the red grouper anglers admit the toll paid on the reds was a direct hit by red tide, algae, but population is back and growing. Good prospect for the '20 season.
Bonita Springs: Of major significance is the success of the Water Quality Conference concluded this week in Bonita Springs. The attention, finances and government attention will, hopefully, fix the "sugar" drainage from Lake O quickly and end the blue/green algae dilemma; red tide issue will, most likely take longer.  The great Lee County fishing reputation will be restored, Current conditions already show improvement both nearshore and deep. In close there are good to excellent reports on mackerel, bluefish et al circa the MAY reef environment. Ditto on the yellowtail snapper, cobia and kings on those mid-range reefs that are holding bait. Still a size issue on the deeper red grouper action but time will grow the stock and cleaner water will keep the favorite grouper alive
Capt. Bill Walsh owns a charter fishing business and holds a U.S. Coast Guard license. Send comments to dawnpatrolmarco@cs.com.